ITB

Awarded Silver partner level with Rapid7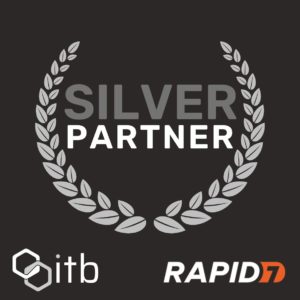 We are pleased to announce that we have been awarded 'Silver Status' with our brand partner, Rapid7. This partnership brings advanced cyber security specialities to our customers and is a demonstration of how our team of technical experts have been recognised as advocates of Rapid7 solutions.
You can be sure that we have the technical knowledge and hands-on experience to accurately assess your organisation's requirements, and then design, implement and manage a Rapid7-based solution to suit your needs.
What do Rapid7 Offer?
We believe Rapid7's solutions automate many manual, time-consuming security tasks, allowing security teams to work more efficiently and effectively by integrating with a wide range of third-party tools. The automation element makes it easier for organisations to leverage existing investments in security technologies.
To learn more about what Rapid7 solutions are available to you, please follow this link: Partner: Rapid7
 MDR, XDR & SIEM
 Leading Vulnerability Management
 Cloud, App and Pentesting tools
 Improved security posture
 Increased visibility
 Streamlined workflows
 Integration with other tools
 Expert analysts & support